NEWS - Page 1/1
HAPPY NEW YEAR 2008
Dear Friends,
I wish you a Happy and Prosperous New Year for you and relatives.
Let the goodwill bring to us a Peaceful Year.


Felice Anno Nuovo ! Bonne Année! S novim godom
Glückliches Neues Jahr ! Hyvää Joulua! aam saiid
Prospero Ano Nuevo ! Boldog Új Évet! shana tova
Prettige Kerstdagen ! God Jul ! akemashite omedetô
Gelukkig Nieuwjaar! Hau'oli Makahiki Hou !
Feliz Ano Novo! bònn ané! Cung Chúc Tân Niên
eutichismenos o kainourgios chronos





pascal

Dec 17: New display at the Studio 100, Boca Raton
Boca Raton, Studio 100,
New display of Pascal's artworks: original oil paintings, giclees on paper and canvas, art tiles at the Studio 100 Fine Art and Custom framing




Located in Boca Raton

100 SE 1st St, FL 33432 • (561) 392-0745

Hours: Monday - Friday 9:30-5:00 Saturday 10:00-4:00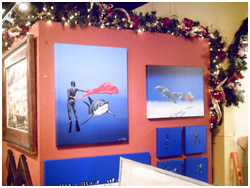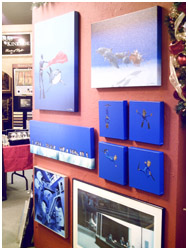 Dec 7th Panama City (FL) Navy Experimental Dive Unit Auction
PANAMA CITY (Florida), Navy Experimental Dive Unit

Dec 7th
Christmas party
Silent Auction at the Edgewater Beach Resort, Panama City;
Limited edition giclee on paper framed "Blind mind Buff", donated by Pascal
infos or contact Brian Saulmon, 2007 Christmas Party Director at 850 230 3230
Dec 04: New display at the ScubaEmporium Fort Lauderdale
Fort Lauderhill, ScubaEmporium,
Dec 04, 2007
New display of Pascal's artwork at the new ScubaEmporium location




WE ARE EASY TO FIND:

Located in the Promenade at Inverrary Shopping Plaza

4678 North University Drive, Lauderhill, FL 33351

phone:(954)572-2642
Hours of Exhibit Hall Open: 10-8


Infos and directions to Scubaemporium
See all the gallery in our August news below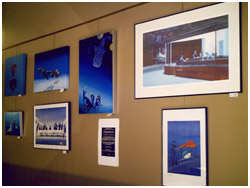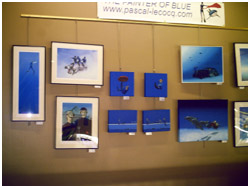 Dec 1-2 Florida Dive Show
FORT LAUDERDALE (Florida), FLORIDA DIVE SHOW

Oct 1-2
Convention Center
booth 107-108
Saturday 9-5pm, Sunday 10-4pm




Previous exhibition at FDS in 2006, 2005,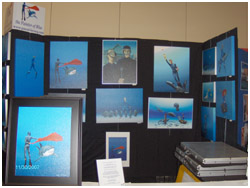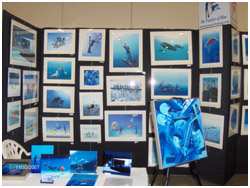 It's the season
GREETINGS CARDS AVAILABLE,




lec-755-GC
Claus Underwater Tour Ho Ho Ho !
4 1/2"x6" with enveloppe, set of 12 pieces
Order now!





Oct: Award OWU Scholarship Dema Orlando
OUR WORLD UNDERWATER SCHOLARSHIP, Dema Show, Orlando (Florida)

Oct 31- Nov 3, 2007
OWU Scholarship Society, Fondation Rolex


Pascal Lecocq has been supported the Society for the last few years and wants to increase his help to the students and the mission of the Scholarship Society.
It's also the aim of his new foundation, the "Pascal Lecocq Foundation for the Arts and Environmental Education" to help and promote children to express themselves by painting and being concerned by the environment...
Giving one of his artpiece to scholars Brenna Mahoney 2007, North American Scholar, and Igor Valente, European Scholar 2007, he declares to encourage also the students to consider art as an important part of their research.
For more than 35 years, Our World Underwater Scholarship Society has created invaluable opportunities for its young scholars and interns to pursue careers related to the underwater world. We provide experience-based scholarships and internships with renowned marine and freshwater experts throughout the world.
With decades of generous and unwavering support from volunteers and sponsors like Rolex, Our World Underwater Scholarship Society has seen its scholars and interns make lasting contributions to the underwater world. In fact, the vast majority of former scholars and interns are still working in underwater-related fields.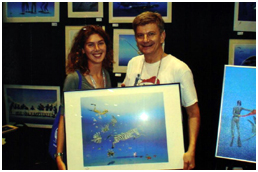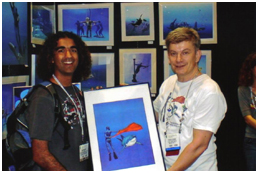 Oct 31-Nov 3 Orlando Dema Show
ORLANDO, DEMA SHOW
Oct 31-Nov3, 2007
BOOTH # 2435.




Pascal's 10th Personal Exhibition at the international trade event for the diving, action water sports and adventure travel industries, with a lot of his last new artpieces: oil on canvas, limited ed giclees on paper and on canvas and some new merchandising products.as art tiles
See this year "Pascal Lecocq Painter" in exhibitors list
Orange County Convention Center.

Trade Show Hours:
Wednesday, October 31, 2007: 10:00 am - 6:00 pm
Thursday, November 1, 2007: 10:00 am - 6:00 pm
Friday, November 2, 2007: 10:00 am - 6:00 pm
Saturday, November 3, 2007: 10:00 am - 5:00 pm

As a Founding Member of The Ocean Artists Society (with Wyland, Guy Harvey...), Pascal's paintings were exhibited at te Art Innovation Center during the show (see right pic)

More pics to come soon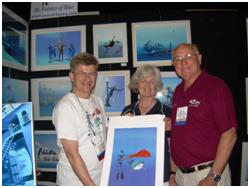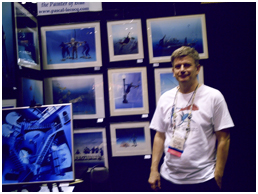 Oct 24-28 Antibes Underwater Festival
Antibes, Underwater Pictures Festival,
Oct 24-28, 2007
Pascal's 15th Personal exhibition at the Underwater Film Festival in Antibes with all new paintings and limited edition prints.

New location at the Marineland.

More infos

Legendary Scott Carpenter, sixth astronaut in the space (1962), visits the show as an avid divers

Of course, Bernard Abeille's Band and famous "Pommeau" liquor fom Pascal's French home were the stars of theOpening Party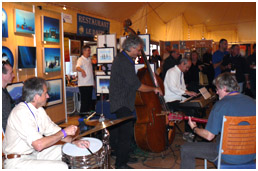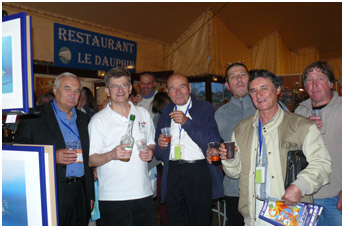 Sept 15-30 Chambourcy (France) Fantastic Art
CHAMBOURCY(France), SAFIR

Sept 15-30
Salle des fêtes, Chambourcy (near Saint-Germain en Laye and Paris)

Opening Friday, Sept 14th at 6:30pm.
Exhibition of the group of the Société des Arts du Fantastique, de l'Imaginaire et du Rêve: "Regard Fantastique II" (Fantastic Eye II"

Previous exhibition by SAFIR in 2000, 2002, 2004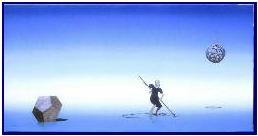 Aug: New Showroom at ScubaEmporium Fort Lauderdale
Fort Lauderhill, Scubaemporium,
Aug 24th, 2007
New display of Pascal's artwork at the new Scubaemporium location




WE ARE EASY TO FIND:

Located in the Promenade at Inverrary Shopping Plaza

4678 North University Drive, Lauderhill, FL 33351

phone:(954)572-2642
Hours of Exhibit Hall Open: 10-8

End June: Results of the Contest 2007
"I'm drawing with Pascal", contest launched during the Paris Dive show in January 2007 on the occasion of the huge retrospective 30 years of Pascal's Paintings 1977-2007.

Rules, downloable files, published drawings and results are online at Paradise-Plongee.com.
Contest ended Feb 28th.
It took time to be able to judge 63 wonderfull pieces of art and to award prizes from sponsors as Pascal Lecocq Foundation for the Arts and Environmental Education, Nausicaa Centre de la Mer, Cité de la Mer de Cherbourg
Congratulations to the winner Loic, from Toulouse (France), for his 1st Prize
All results, or also result07.pdf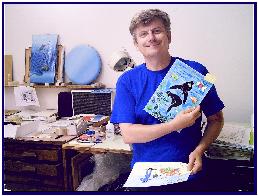 June 9-16 Geneva-Ferney Dolphin Shop
Ferney-Voltaire (France) Geneva border, Dolphin Shop,
June 9-16, 2007,

10 years after his 1st appearance at Dolphin shop (1997), Pascal is exhibiting for the 6th time at the famous and biggest European dive shop, celebrating his personal 30 years of exhibitions
Opening Saturday 9th afternoon

Tuesday-Sat 9am-7pm
Apperance of the artist Friday and Saturday all day
Chemin de Colovrex, 01210 Ferney-Voltaire France,

Tel. (33) 4 50 40 95 08, Fax. (33) 4 50 40 15 50
More infos at Website and directions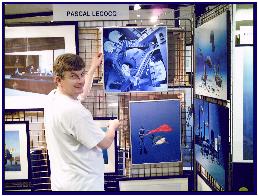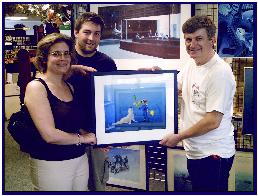 May-June Kiev Silver Shark Festival and Fun Splash in Key Largo
KIEV(Ukraina), SILVER SHARK International Underwater Art Festival.
From May 30 to June 3rd
Exhibition of artprints by the painter of blue.
The House of Cinema, Saksaganskogo St., 6, Kiev
Open 10 am-9pm
More infos about the Silver Shark Festival, and Pascal's prints available in Ukraine and Russia .
KEY LARGO (Florida), Island Sun Splash 07

June 10-16

Join us for a week of fun filled family adventure in the beautiful Florida Keys. Whether you want to experience a discover scuba class, a snorkel adventure or dive our shipwreck trail. This week will have something for everyone...


Pascal will be abroad but one of his signature painting will be offer as a prize: a no longer available artprint on paper, framed: "One thousand places under the sea" coming with a original remarque drawing by the artist.
And here is the lucky young winner! Congratulations!




Artprints, Limited Edition Giclee on paper and canvas, postcards are available at Ocean Divers Shop as part of the Pascal's Network




Infos about Island Sun Splash , and Directions to Ocean Divers Store



May 19-20 Atlanta Georgia Dive Show
Atlanta, Georgia Dive show,




May 19th & 20th, 2007, Holiday Inn Select, Downtown Atlanta, GA,
Georgia Dive Show with 60 Exhibitors and Speakers on Scuba Diving

May 19th, 9am-5pm

May 20th, 10am-4pm

450 Capital Avenue Southwest, Atlanta, Georgia.

More infos at Website and directions

Cover guide by Pascal, "Waterfalls", oil on canvas available as giclee on paper



April 20-22 Fort Lauderdale Ocean Fest
FORT LAUDERDALE (Florida), 11 th Annual Ocean-Festival Dive & Adventure Sports Expo

Apr 20-22

Friday 14th: 5:00-9:00pm
Saturday 15th: 10:00-8:00
Sunday 16th: 10:00-5:00

Original oil paintings by the painter of the blue who signs prints and book in his booth #106
Treasure Hunt offering 5 Pascal's gift certificates!

The new event location is the Municipal Parking Lot on the Beach just North of the Fort Lauderdale Sheraton Yankee Clipper and across the street from the Days Inn Bahia Cabana Resort and the Radisson Bahia Mar Hotel Marina

Toll Free (800) 327-8150 Phone: (954) 462-3400 Fax: (954) 462-4100

More infos at OceanFest , Directions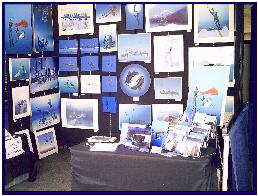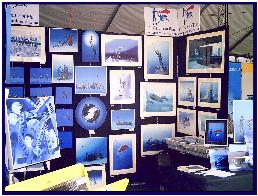 March 30- April 1 Houston Seaspace
HOUSTON (Texas), SEASPACE is an annual exposition of Adventure Sports, Travel, and Scuba Diving.
SEASPACE 2007 is scheduled March 31-April 1 at Reliant Center in Houston, Texas.




Pascal offers Gift Certificates and prints available at the Silent Auction booth and signature sold out print on paper framed with remarque drawing: "Columbia for ever" for the SeaSpace Permanent Education Fund.




Houston's Reliant Center, Reliant Park, Loop I-610 South at Kirby Drive, Houston, Texas
Saturday, 10am-6pm
Sunday, 10am-4pm
Booth #313-315-317




More infos at Seaspace.org, Map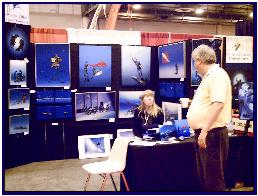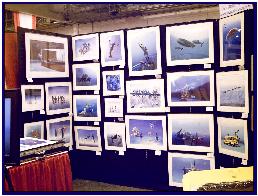 March 23-25 New York BTS
SECAUCUS, NJ, Benath The Sea,
March 23-25
Meadowsland Exhibition Center,Secaucus (NJ), in front of Manhattan (New York).
Hours of Exhibit Hall Open:
Friday 6pm-9pm
Saturday 9am-5pm
Sunday 9am-4:30pm
See last year exhibition in BTS 2006
Infos and directions

9th exhibition by Pascal Lecocq.
Artpieces donated by the artist for the Maria Fareri Children's Hospital
At Meet the Fish and Famous Benefit reception and gift Certificates at the Door Prizes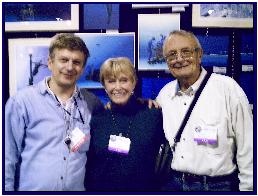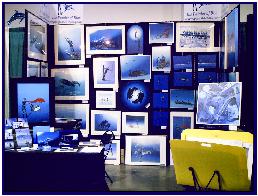 March 9-11 Wilmington OH: Scuba Fest
Wilmington, ScubaFest,
March 9-11, 2007
Holiday Inn at Roberts Centre, in Wilmington, on I-71 at SR 68, exit #50.

Hours of Exhibit Hall Open:
Friday Mar 9, 6pm-9pm
Saturday Mar 10, 9am-5pm
Sunday Mar 11, 10am-4pm

Booth #1-2-3,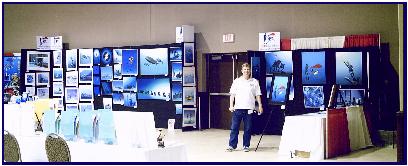 February 9-11 Chicago: Our World Underwater
CHICAGO, Our World-Underwater,
Feb 9-112007
Donald E.Stephens Convention Center, 5555 N. River Road, Rosemont, IL 60018, phone: 847-696-2208
Hours of Exhibit Hall Open:
Friday Feb 9, 6pm-10pm
Saturday Feb 10, 9am-5pm
Sunday Feb 11, 9am-4pm

See last year exhibition in 0WU 2006
Infos and directions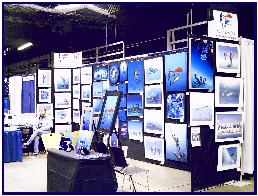 Jan 11-14: Paris Dive show
PARIS, Salon de la Plongée
January 12-15, 2007
BOOTH # G6-G8.

Huge retrospective 30 years of Pascal's Paintings 1977-2007
120 paintings.
Cocktail Opening Friday 7:00pm
Since 1977, the artist Pascal Lecocq is concerned with the underwater environment. His work reflects his imagination, humor, dreams and his own poetical world.
During the Show, feel free to come to meet his emotional pictures.
Pascal Lecocq celebrates in 2007, 30 years of paintings. Let Paris Dive Show introduce you into a huge retrospective of his underwater iconic work.
Be caught by the magic of his world renown paintings!

A contest "I'm drawing with Pascal" for children will take place during the exhibition. Rules and downloable files on Paradise-Plongee.com and first drawings published. End of the contest Feb 28th. Prizes from sponsors as Pascal Lecocq Foundation for the Arts and Environmental Education, Nausicaa Centre de la Mer, Cité de la Mer de Cherbourg

Show Hours:
Vendredi 12 janvier de 10h00 à 21h00

Samedi 13 janvier 10h00 à 19h00

Dimanche 14 janvier 10h00 à 19h00

Lundi 15 janvier 10h00 à 19h00



HAPPY NEW YEAR
1977-2007 CELEBRATION OF 30 YEARS OF EXHIBITIONS

Dear Friends,
I wish you a Happy and Prosperous New Year for you and relatives.
Let the goodwill bring to us a Peaceful Year.
HAPPY LEAP INTO 2007

Felice Anno Nuovo ! Bonne Année!
Glückliches Neues Jahr ! Hyvää Joulua! Prospero Ano Nuevo ! Shalom !
Prettige Kerstdagen ! God Jul !
Gelukkig Nieuwjaar! Hau'oli Makahiki Hou !

pascal