The NOBE Art Gallery is presenting Pascal Lecocq, The Painter of Blue ® at the Cyber Cafe of The  Greater Fort Lauderdale/ Broward County Convention Center.
30 prints on paper or canvas from Pascal's original oil paintings are permanently displayed at the fabulous Convention Center.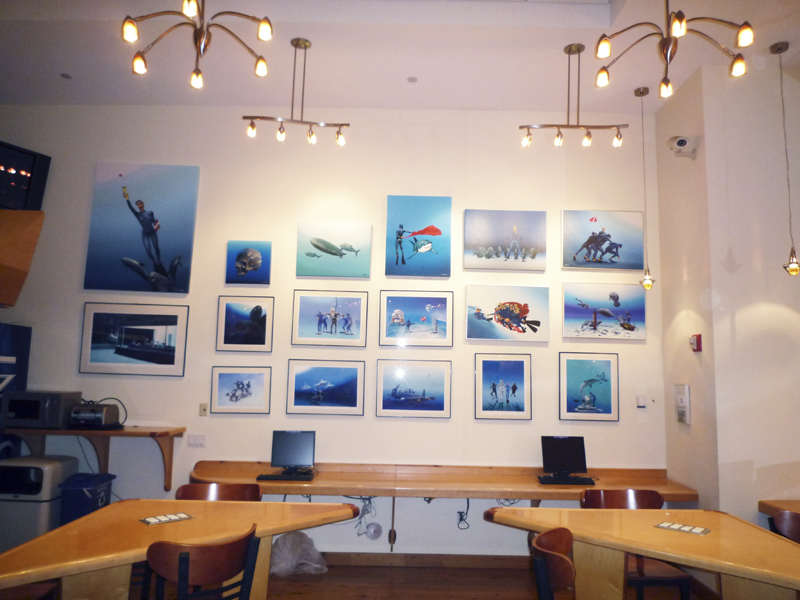 All inquiries, call the  NOBE Art Gallery: 3334 NE 34th Street Galt Ocean Plaza, Fort Lauderdale, FL 33308,
phone, local: (954) 667-0660
Mon – Fri 10:00 AM – 6:00 PM, Sat 10:00 AM – 2:00 PM, Parking lot  (Details of the artwork).
T he Cyber Cafe on level 1 in front hall C and D
Directions: details
From the North or South: Take I-95 or Florida's Turnpike and Exit at 595 East. Exit at US 1 North and proceed to S.E. 17th St. East on S.E. 17th St. to Eisenhower Blvd. Turn right on Eisenhower. Follow signs to the Convention Center.
The Greater Fort Lauderdale/Broward County Convention and meeting facility is located at the northern end of Port Everglades. Security checkpoints exist at all entrances to Port Everglades. All visitors must present valid government-issued identification. For further details, visit the Port Everglades website at http://www.porteverglades.net/about-us/security.