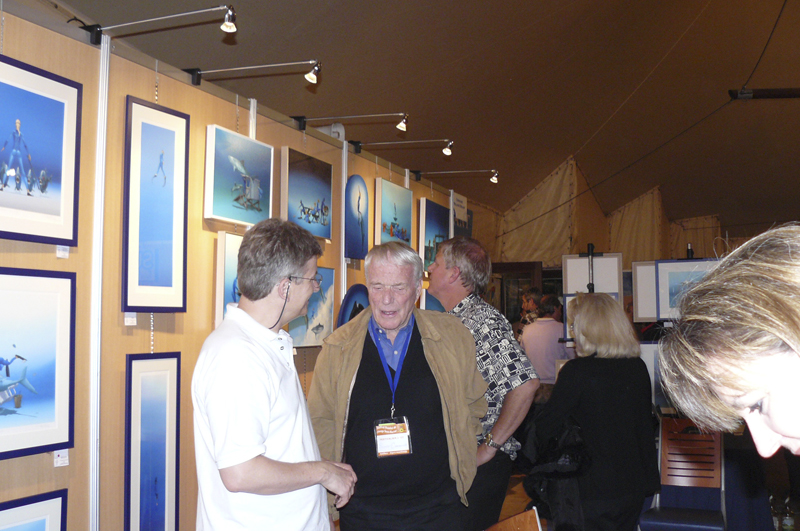 Last trip to the stars for the 2nd American to orbit the Earth and 4th American in Space (Mercury 7 in May 1962 ) or to the starfishes as Navy's SEALAB project (1964) for Scott Carpenter (May 1, 1925 – October 10, 2013)
A true hero of my youth I have been honored to meet several time.
Pic taken (by G.Lecocq) at my exhibition in Antibes, France, Oct 2007.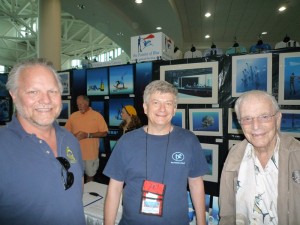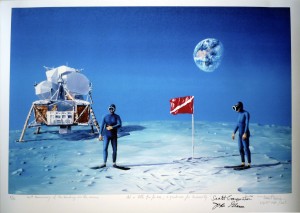 Left, at the
BlueWild Expo
in Fort Lauderdale, Feb 22, 2013, right: my personal print of the
artwork
  dedicated to the 40th anniversary of the Moon Landing, signed by Scott Carpenter and Senator John Glenn at the Explorer Club Awards meeting in New York, March 16th, 2013.
FORT LAUDERDALE (Florida), Blue Wild Expo 2013
Feb 23-24
Broward County Convention Center
Saturday Feb 23rd– 11:00 to 8:00 pm – EXPO (at Convention Center)
Sunday Feb 24th — 10:00 am to 6:00 pm – EXPO (at Convention Center)
Great to meet the legendary 4th American in Space: astronaut Scott Carpenter, from Mercury to SEALAB NASA project, I met Scott first in France in 2007.  With Mark Widick (left) Feb24, 2013
Featuring speaker Dr. Eugenie Clark:
Eugenie Clark, also known as Shark Lady, is a world-renowned ichthyologist and authority on sharks. She is currently a Senior Research Scientist and Founding Director at Mote Marine Laboratory. She has won many awards, authored three books, written over 160 articles (some for Nat'l Geographic), and conducted 71 deep submersible dives. www.sharklady.com www.mote.org
Original oil paintings by the painter of the blue who signs prints and book in his booth #707
Raffle Pascal's artworks.
Pascal at Blue Wild Expo in 2010, 2011, 2012.
More infos at Blue Wild Expo , Directions
Antibes, Underwater Pictures Festival,
Oct 24-28, 2007
Pascal's 15th Personal exhibition at the Underwater Film Festival in Antibes with all new paintings and limited edition prints.
New location at the Marineland.
More infos
Legendary Scott Carpenter, sixth astronaut in the space (1962), visits the show as an avid divers
Of course, Bernard Abeille's Band and famous "Pommeau" liquor fom Pascal's French home were the stars of the Opening Party