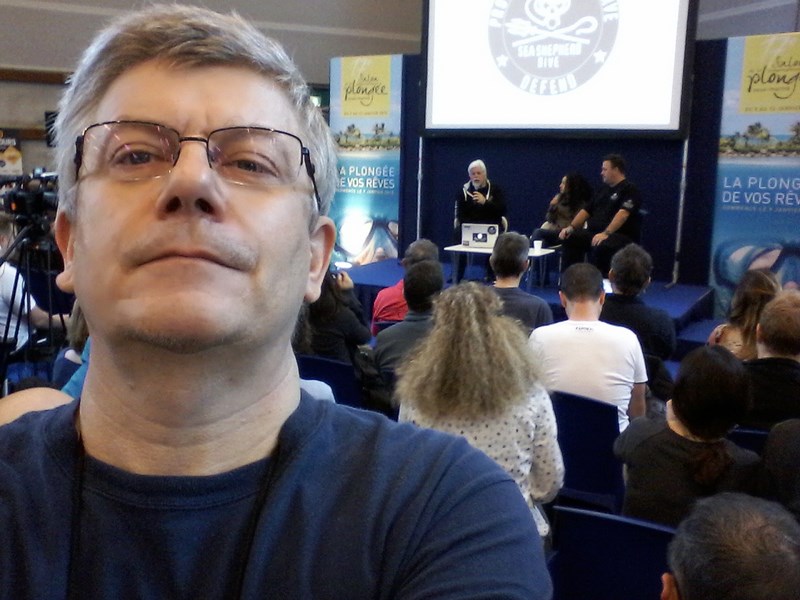 Attending Paul Watson presentation at the Paris Dive Show 2015
Exhibition for the 17th time at the Paris Dive show with new paintings and prints.
Directions and info. Pascal's exhibition is located G01-G03 left from the entrance 1st booths of Aisle G
Exhibition Park – Porte de Versailles –  bd Victor Hall 5-2 & 5-3 – Paris –France
Pascal exhibition G01 G03, first booths Aisle G on the left when entering the hall.
Hours:
Open : everyday 10:00am
Closing : Friday 9th :9:00pm
Sat and Sunday at 7:00pm
Monday (VIP by invitation only) at 3:00pm
RIVERSIDE, CA, Sea No Evil Art Show June 25th, 2011  benefit Sea Shepherd
Time: Doors Open at 6:00 PM
Place: Riverside Municipal Auditorium, Corner of Mission Inn and Lemon, 3485 Mission Inn Avenue, Riverside, CA 92501
Celebrating our 5th Year, Sea No Evil will come back to the Riverside Municipal Auditorium for one night only on Saturday June 25th, 2011. Featuring Captain Paul Watson and the crew featured on the popular Animal Planet show, "Whale Wars".
Over 70 artists have been confirmed for the show including Pascal's donation: "Crime scene, Stop shark finning", a limited edition giclee on canvas.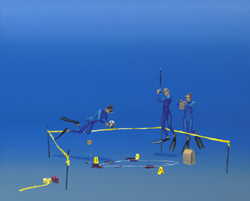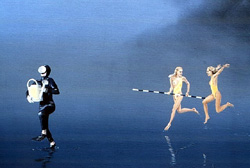 Statement:
"I have been mostly a fellow of Greenpeace, especially shocked about the sinking of the "Rainbow Warriors" in 1985.
One of my first painting including my signature characters of the diver was "Combattantes de l'Arc en Ciel" (The Rainbow Warriors) with the characters of Amazons chasing a diver holding a watering can, figuring the French expression: l'arroseur arrosé (he's been hoisted by his own petard). An oil on canvas, 92 x 65 cm, 1989.
I started to hear about Sea Shepherd when my friend, the painter Malvina, painted murals on Paul Watson's icebreaker in 97, I think.
Then I followed the incredible and effective impact of Sea Shepherd over the social medias and met members when they started to appear during the dive shows where I was exhibiting.
Laurens de Groot, directors of European Operations told me about the benefit Art Show for Sea Shepherd and it seemed to me accurate to give one of my last creation: "Crime Scene", related to the Shark Finning.
A digital color print with archival ink, limited edition giclee reproduction streched on canvas, galerie wrap. Print individually numbered and hand signed by PASCAL LECOCQ, size 20″x24″, edition S/N 11 of 250ex.
I'm a shark lover and friend of Rod Stewart, Eugenie "The Shark Lady" Clarck, Marie Levine and the Shark Research Institute".
Continue Reading