ArtBravo Curated exhibition Artserve Fort Lauderdale featured Pascal until Feb 22
Date/Time
Date(s) - 02/05/2019 - 02/22/2019
12:00 am
Location
ArtServe
Category(ies) No Categories
Exhibition: Feb 5 – 22, 2019
Gallery Reception: Thursday Feb 7th  | 6-8pm

With Pascal's painting: CERVANTES' DON QUIJOTE UNDERWATER EPISODE, SAVE THE MANATEES ! 48×48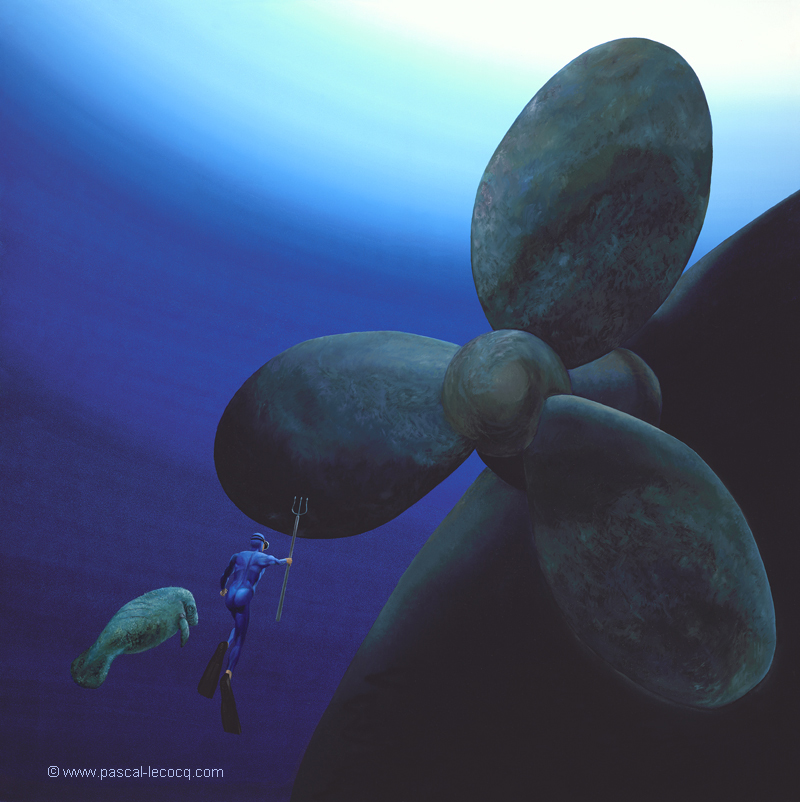 As an environmental activist (I'm a member of the Ocean Artists Society since the foundation in 2003 with well-known marine artists) and as a resident of Florida, the fate of those amazing and peaceful creatures, the manatees, makes me concerned.
The leading human-caused threat to Florida manatees is collisions with watercraft. Propellers and boat hulls inflict serious or mortal wounds, and most manatees have a pattern of scars on their backs or tails after surviving collisions with boats. Scientists believe that unless this cause of death is controlled, the manatee population will not recover.
One of the meanings I try to give to my artwork, like one of the many layers of sense, is to make my viewer thinking. I still believe we need to educate people. A kind of utopia.
An utopia as the one driving Don Quixote "tilting at windmills" in Cervantes' masterpiece El ingenioso hidalgo don Quijote de la Mancha. Here, Don Quixote attacks a giant propeller (a product of human industry unaware of its impact to the nature) with a Poseidon's trident.
I'm used to make different alliterations with words, numbers and shapes, so Panza was obvious to personalize the manatee.
You may notice that the vessel is upside down, as a wreck, and that the propeller won't arm the manatee. That could accentuate the utopia of Don Quixote or the meaning that human artifacts wreck humanity.