PARIS DIVE SHOW 15th Pascal's exhibition
Date/Time
Date(s) - 01/11/2013 - 01/13/2013
10:00 am - 7:00 pm
Location
Exhibition Park – Porte de Versailles
Category(ies)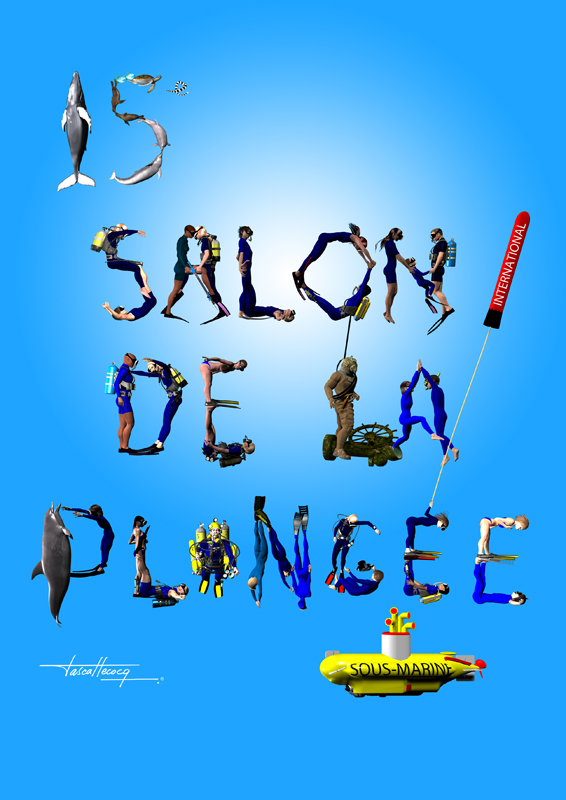 "CAPITALE DE LA PLONGEE 2013" – Diving capital city 2013.
Special painting by Pascal Lecocq, The Painter of Blue ®    © www.pascal-lecocq.com,
 44"x32", 112x81cm, lec870b, 2012, to be unveiled at the Paris Dive Show, Jan 11th, 2013.
All new paintings and reproductions for the Paris audience
Pascal will celebrate the 20th anniversary of the completion of the famous Matador, which became a worldwide renowned  picture. La Corrida was completed on September 11, 1993.
The Corrida III and an other painting are part of his first exhibition in an amercican museum: Shark ! at the Museum of Art, Fort Lauderdale, May 2012-January 2013.
Pascal fêtera les 20 ans de la réalisation de la fameuse Corrida, devenue une image mondialement diffusée. La Corrida a été achevée le 11 septembre 1993.
La célèbre "Corrida" e Pascal et une seconde toile ont été choisies par Richard Ellis, organisateur de l'exposition d'art ancien et contemporain : SHARK !, au Museum Of Art de Fort Lauderdale, Floride, USA, de mai à janvier 2013. C'est la première exposition du peintre français dans un musée officiel des Etats-Unis.
Le Salon de Paris sera l'occasion de présenter un ensemble de toiles récentes et de nouvelles reproductions d'art de l'unique Peintre du Bleu et des Plongeurs. .
Pascal at Paris Dive Show 2012 and 2011 and for the previous years.
Directions and info. Pascal's exhibition is located aisle A 07