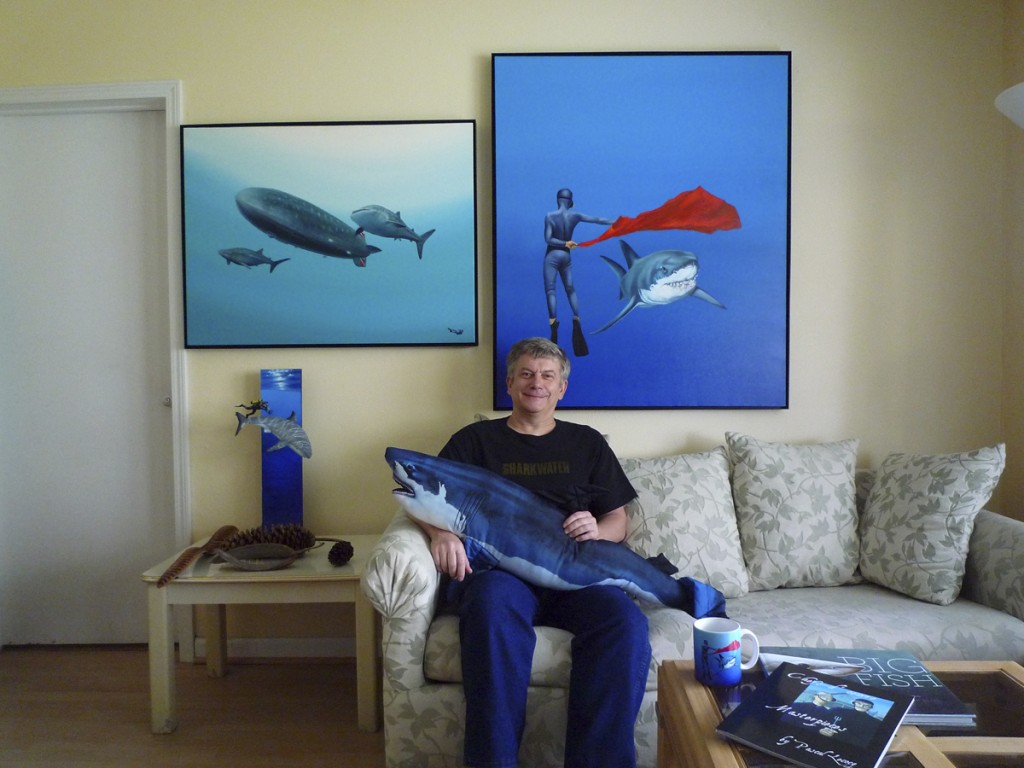 I always have my head in the clouds, and painting permits me to create an imaginary universe between outer space and the depth of the oceans: a refuge to which I can escape the contemporary reality. In turn, I offer my viewers the ability to join me.
I believe the traditional oil painting is the best way to share my thoughts and for the last 35 years, I have strived to bring it to perfection, as I want the viewer to focus on the subject and not the medium.
I stack the layers of meaning (aesthetic, political, ecological, symbolic and allegorical) in an endless construction set (alliterations of words, shapes, numbers or letters) always using the Golden Ratio. Not to confuse the issue or by intellectual arrogance, but on the contrary, to reach a greater majority of people able to understand the message. The transposition of reality into an underwater world generates some humor, but hides more meanings.
In addition, there's my willing to share some knowledge and to build a better word. I want keen viewers to create their own story from my paintings or to seek its occult meaning. Therein, by way of an intellectual game, it's not a direct message that I send, but a more covert or subtle one.
I'm a Surrealist – a painter of imagination, but I won't be surprised to be considered part of the Figuration Narrative. However, nobody has yet cracked my Code, which will let the viewer regard me as a Conceptual artist. In order to do that, more than just considering the influences of Salvador Dali, The Mystic Lamb by Jan Van Eyck, Vermeer, The Isle of the Dead by Böcklin, one should think about the influence of writings of Georges Perec or movies by Peter Greenaway.
Pascal Lecocq, Ph.D
2014