MOAFL SHark! Exhibition
Date/Time
Date(s) - 05/12/2012 - 01/04/2013
All Day
Location
Museum of Art
Category(ies)
First appearance by French artist Pascal in an American Museum in a major exhibition led by curator.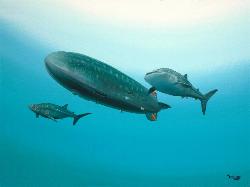 The Matador, Corrida III, original oil on canvas, (prints and collectiblesavailable)
Colosseus Watching, original oil on canvas, (prints available)
FORT LAUDERDALE, Museum of ArtMay, 12th – Jan 6th, 2013: SHARKSMuseum Gallery Hours:
The Museum is open daily 11 am – 6 pm with extended hours on Thursdays until 8 pm. Sundays 12 -5 pm. CLOSED MONDAYS.Museum of Art | Fort Lauderdale
One East Las Olas Blvd. Fort Lauderdale, FL 33301 .(954) 525-5500infos and directions
After the successful exhibitions Tutankhamun and the Golden Age of the Pharoahs, American Chronicles: The Art of Norman Rockwell, Vatican Splendors: A Journey through Faith and Art, the new presentation is all about SHARKS.Long before humans first appeared on Earth, sharks were swimming the seas. They predate dinosaurs by about 200 million years and were revered by ancient human societies as gods. Sharks come in all shapes and sizes. There are angel sharks, basking sharks, blues sharks, bull sharks, gray sharks, lemon sharks, sleeper sharks, and tiger sharks, among many other varieties. Not only are they found in every ocean of the world, but in many rivers and lakes as well. This major exhibition has been organized by the Museum of Art in association with Nova Southeastern University's Oceanographic Center.It is guest curated by acclaimed wildlife artist, author and environmentalist Richard Ellis, who is working to bring together both art and science in documenting the world's never-ending fascination with these celebrated creatures of the sea. In addition to drawings of all the known varieties of sharks in the world, the exhibition contains photographs, sculptures, and video as well as a section devoted to the sensational impact of the 1975 Steven Spielberg film Jaws. In recent years, attention has turned to protecting the habitats of these magnificent animals and the exhibition documents advances made those areas as well, including the July 2011 banning of all commercial shark fishing by the island nation of the Bahamas.Curator Richard Ellis says: "It will include photographs, films, sculpture, and posters, as well as paintings and reproductions representing the work of Winslow Homer, Charles R. Knight, and many contemporary shark painters, including Guy Harvey, Alexis Rockman, Ray Troll, Don Ray, Stanley Meltzoff, and me. The Metropolitan Museum of Art (NY) has generously loaned us their copy of John Singleton Copley's "Watson and the Shark." We also have an original painting by Roger Kastel, who did the most famous shark painting in recent history, the steak-knife-toothed shark on the cover of Jaws. We won't be able to exhibit Damien Hirst's tiger shark, but we will show a video of it, and include one of his recent multiples of a tiger shark jaw. We have shark sculptures made of rubber tires, automobile hubcaps, bronze, stainless steel, and found materials, as well as a table made by a Los Angeles sculptor in the shape of a shark.I've arranged to get 128 paintings from Princeton University Press's Sharks of the World, by Marc Dando, to illustrate the diversity of sharks; and a filmmaker in California is providing sensational footage of various shark species underwater. We will be exhibiting the photographs of David Doubilet, Chris Fallows, Rodney Fox, Ron and Valerie Taylor, and Douglas Seifert. We are also planning to exhibit artifacts such as the shark-tooth club in the Peabody Essex Museum and another from the Bishop Museum in Honolulu, and various shark-related artifacts from The American Museum of Natural History's anthropological collection. I've commissioned a 50-foot long Megalodon balloon, based on my drawing, that will sit on the roof of the museum in Florida.I will be writing a comprehensive catalog which will include the artifacts, paintings, posters, etc. but will also be book of about the place of sharks in our culture and in our lives."
The exhibition includes two pieces by French artist Pascal: his signature masterpiece The Matador ("Corrida III", original oil on canvas, 48″x 40″, 2006) and "Colosseus Watching", about whale-shark watching, an original oil on canvas, 30″x 40″, 2006.
First appearance of French artist Pascal in an American Museum.
His artworks have been exhibited in exhibitions organised by curators in France: Musée des Capucins, COULOMMIERS in 1996: exhibition "Ex Voto", and 2000: exhibition "Grids and Lights", and at the Musée Bossuet, Meaux in 2001-2: exhibition: "Homage to Arnold Böcklin's "Isle of the Dead".
From May 12th to January 6th, 2013
Thursday, May 10, 2012 at 6:30 – 9:30pm
President's Associates Preview Reception for SHARK
For NSU President's Associates and MOA Benefactor ($1,000) members and above only. Reservations are required to Lynn Larose at kl698@nova.edu or (954) 262-2116.
Friday, May 11, 2012
NSU SHARK Day
Special preview day for NSU faculty, staff and students, and Museum members from 10 a.m. until 5 p.m. Guests Curator Richard Ellis speaks at 11:30 a.m. about the exhibition and signs copies of his book SHARK, Save Our Seas CEO's Georgina Wiersma and Peter Verhoog speak at 1:30 p.m. on the work they are doing to save shark populations worldwide, also followed by book signing
Saturday, May 12, 2012 Opening Day
Family SHARK Experience
Join us for opening day ceremonies, including a ribbon cutting at 9:30 a.m., showings of the film The Shark Riddle at 11 a.m. and 12 noon, story time featuring the book Desert Beneath the Sea and a book signing with 'Shark Lady' Dr Eugenie Clark at 10:30 a.m. and 11:30 a.m., Gyotaku fish printing at the Academy, as well as face painting, and more fun activities. Meet Razor, the NSU Shark Mascot, as our exhibition opens to the public. 10:00 a.m. – 1:00 p.m.
Free and open to the public. Exhibition entrance fees apply.
Saturday, May 12
Opening Party for SHARK
6 pm Lecture with Guest Curator Richard Ellis
7 pm Party and Exhibition Viewing
$20 for Museum Members; $50 for Nonmembers
Reservations are required to Shelley Edwards at shelley.edwards@moafl.org or by calling (954) 262-0221.
Thursday, May 17 at 6pm
SHARK Artist Talks
Artists Pascal Lecocq, Don Ray, and Bill Wieger discuss their work and the Museum's exhibition.
Exhibition entry fees apply. RSVP to education1@moafl.org.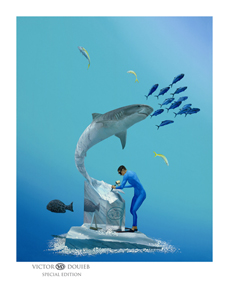 SHARK ! will exhibit also 4 pieces by the amazing sculptor Victor Douieb.
"Carving the Tiger, a portrait of Victor Douieb", from an original oil on canvas, available as a special edition print, giclee on paper signed by both