Oct 27- 30 World Underwater Film festival Marseille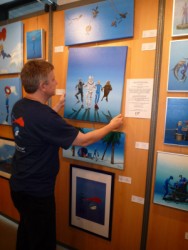 Marseille, Underwater Pictures Festival,
Oct 29- Nov 2, 2010
Pasca is exhibiting for the 16th year at the show, 57 pieces including 14 new oil on canvas. Booth #67.
A traditional opening with a glass of "pommeau" should be held Friday at 5:30 pm, with music by Bernard Abeille and the Festival orchestra !
We'll introduce the last issue of Australian magazine "OCEAN GEOGRAPHIC", published by Michaël Aw, with a huge portfolio of 9 of my paintings under the nice title "Dreams in Blue Canvas" . (Preview, check online my previous 21 portfolios published in magazines worlwide ).
We should be able to preview the last video by filmmaker NATHALIE LASSELIN (which movie Héen Táak is in competition here) : "Le Peintre du Bleuhttp://www.pascal-lecocq.com.Immergé " (The Painter of Bluehttp://www.pascal-lecocq.com.Immersed) shooted during my exhibitions in lakes in Quebec and Saint-Lawrence River in August and September.
The Festival is taking place for the second successive year at the Palais du Pharo in Marseille, October 27 to 31st, 2010.
Schedule:
Wednesday October 27th from 02.00 PM to 00.00 AM
Thursday 28th, Friday 29th and Saturday 30th of October
from 09.00 AM to 00.00 AM from 10.00 AM to 08.00 PM
Sunday October 31st, from 10.00 AM to 08.00 PM