ANTIBES ALPES MARITIME, FESTIVAL MONDIAL DE L'IMAGE SOUS-MARINE. port Vauban,
October 25th – 29th, 2006
Pascal's 14th Personal exhibition at the Underwater Film Festival in Antibes with all new paintings and limited edition prints.
See last year exhibition in Antibes 2005
New location in the Pré aux Pêcheurs / Antibes Vauban Port, under a huge 6,000 m² tent, a "luxurious camping" including two show rooms (Spondylus : 800 places and Spondylia : 300 places) and 4,000 m² for exhibition.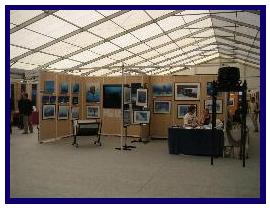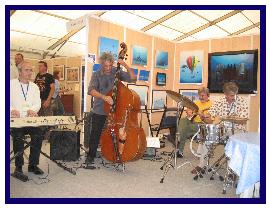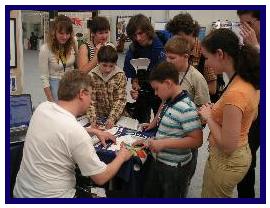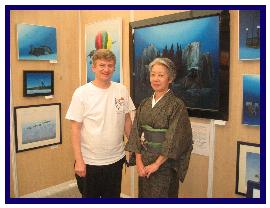 Finally, the underwater version of the Isle of the Dead by Pascal is done!
Based on the Böcklin's lost version and mixed with his actual marine theme, and many hidden symbols, Pascal offers his 12th painting about his favorite masterpiece. (Pascal is the founder and webmaster of the web encyclopedia Toteninsel.net).
He got the idea from the tragedy of the Kursk in Aug 2000, thinking to an homage to the crew by painting a cemetery of submarines as an elephants' graveyard, and warning about the ecological disaster of such nuclear submarines dumped in the ocean.
French title: "La Chair quitte les eaux" is a pun between "Body escaping from waters" and "The flesh cleaving from the bones".
Better pics will be edited soon with details of the diver escaping from the graveyard, the five sunk submarines, the shroud and garland.
Painting, oil on canvas, 81×100 cm, will be unveiled at the World Underwater Pictures Festival in Antibes (France), Oct 25-29.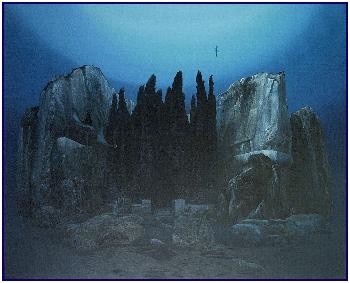 Pour la quatorzième fois au Festival, le peintre du Bleu présente ses dernières créations dans lesquelles son personnage fétiche et unique de plongeur poursuit ses aventures aquatiques, humoristiques et écologiques.
Des aventures qui le mènent de par le monde à travers les principales manifestations de la plongée (Las Vegas, West Palm Beach, Paris, Chicago, Honolulu, New York, Fort Lauderdale, Key Largo), et dans les galeries qui le représentent (TPM à Houston, Deep Ecology à Hawaii, Fishhouse Art Center de Stuart, Serendipity à West Palm Beach).
Nul doute qu'un « vernissage au pommeau normand » aura lieu encore cette année au son de l'orchestre de Bernard Abeillehttp://www.pascal-lecocq.com.
Sur d'autres thèmes, Pascal participe également aux expositions internationales de peintres fantastiques avec des œuvres surréalistes, symboliques et visionnaires présentées sous le titre « Inner Eye » à la Gallery Interart de New York, la Galleria Venere de Vezzano (Italie) et la Lofthouse Galerie de Rosshaupten/Burgau (Allemagne).
Notons déjà que l'an prochain, Pascal fêtera 30 ans d'expositions de ses oeuvres auxquelles le Salon de la Plongée à Paris consacrera en janvier 2007 une rétrospective de plus de 150 tableaux.