Raise the Reef 2018 is here! Each year our annual gala event kicks off with a dive program.
This year collaborators, donors, board members, and staff got onto the same boat for a day-in-the-life of the Coral Restoration Foundation.
For years Pascal is supporting the Coral Restoration Foundation with his annual artwork donation.
Raise the Reef 2018 was a huge success – an inspiring and glamorous night of fun, fundraising, and networking.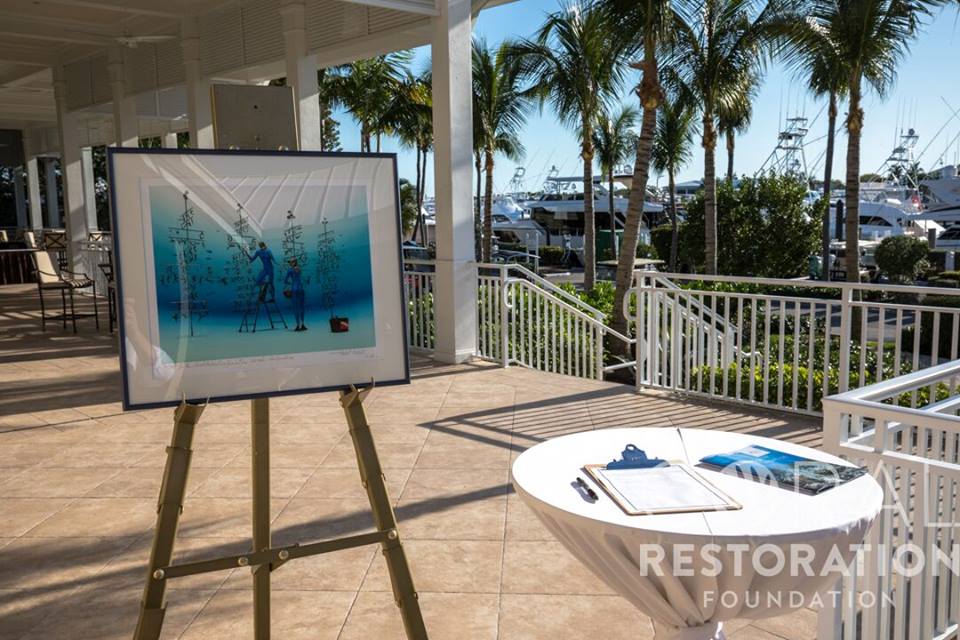 North Beach Art Gallery's final Art & Charity Event this season on May 18 from 6-10 p.m. benefitting Joe DiMaggio Children's Hospital. The event will feature live music and entertainment from Polynesian Proud, Bill Carroll's and friends Collector Car Cruise In, Live Pinstriping on models and of course a selection of fine art, at the Galt Ocean Plaza, 3334 NE 34th Street.
 P
ermanent collection of Pascals original oil paintings on canvas limited edition prints giclees on canvas and paper and artprints and from other talented artists.
"We enjoy coming together to support the invaluable community resource that Joe DiMaggio Children's Hospital has become," said NOBE Gallery owner Brooke Trace. "This event will be especially entertaining with the support of community figures like Bill Carroll and friends Collector Car Cruise In and Talani, Russ Gagliani Jr., of Polynesian Proud Entertainment donating their time and support for this annual event. Russ G events has graciously donated the Charity Choice Top Car Award Trophy, Special Guest Artists, Jessie Malero, Bones and JC will be Pin striping on live models.
The Joe DiMaggio Children's Hospital Foundation provides philanthropic support to Joe DiMaggio Children's Hospital and ensures the ongoing availability of safe, quality, cost-effective, patient- and family-centered care, regardless of one's ability to pay, with the goal of improving the health of the community it serves. As South Florida's newest freestanding children's hospital, Joe DiMaggio Children's Hospital combines advanced technology with the expertise of the largest diversity of board-certified pediatric specialists in the region. This patient- and family-centered facility has earned the distinction of being the leading children's hospital in Broward and Palm Beach counties through a wide scope of pediatric critical services, including the Wasie Neonatal Level II and Level III Intensive Care Unit and the only pediatric Level I trauma center in south Broward County.
The NOBE Gallery features modern masters fine art prints. We promote local and international artists. The works of emerging talented artists, some of whom will be in attendance, include Pascal, Blake Ballard, Robert S. Simon, Marc Lipp, Brooke Trace, Ashton Howard, Billy Hoblik and John Salko.
The gallery, at the Galt Ocean Plaza, 3334 NE 34th Street, has expanded its services to include museum quality restoration, insured art brokerage, art appraisal, and full service custom framing. For more information contact Brooke Trace at 954-667-0660.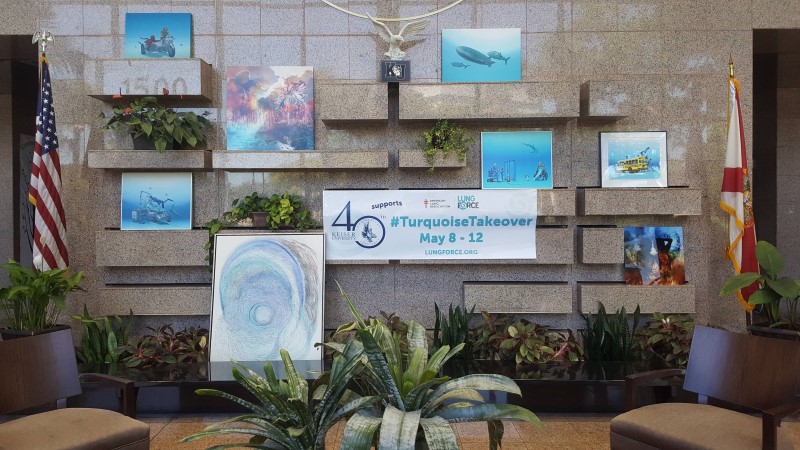 Several artists from the Broward Art Guild are embellishing the lobby of the Keiser University with paintings in the shade of turquoise during the Turquoise Takeover Week . 5 paintings by the Painter of Blue ® are exhibited.
Meet the artists Wednesday 10th at noon.
We invite you to join us as we stand together – against lung cancer and for lung health – leading up to National Women's Lung Health Week, or #TurquoiseTakeover week, May 8-12. We are uniting as a community to raise awareness of lung cancer by turning South Florida businesses, media and landmarks TURQUOISE!
Since 1977, Keiser University has maintained a practical, hands-on approach to career-focused education to help our students achieve their personal and professional goals.
1900 W. Commercial Blvd, Ft. Lauderdale, FL 33309
Phone: (888) 453-4737, Local: (954) 351-4040
Fax: (954) 229-1695
.