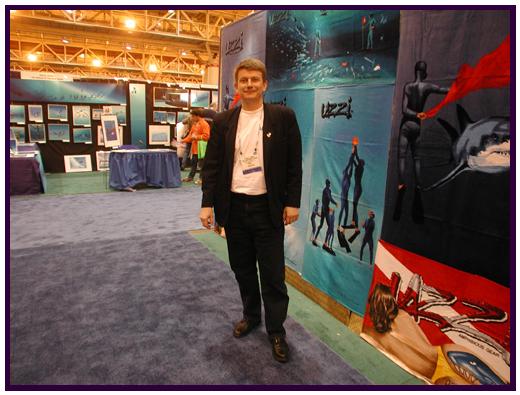 January 2001: Pascal in New Orleans at the Dema show (photo Ph.Lachot)
PASCAL G.LECOCQ, Ph.D.
DOB June 4th, 1958, Fontainebleau, France
1973-1977 Student of Mrs. Yvonne Bouisset-Mignon, Art school Ecole Comairas (Foundation Taylor), Fontainebleau, France, while in High school
1978-1985 Studied Arts at University of Paris VIII
1985 Doctorate of Arts, Directed by Prof. Franck Popper
1977 First solo exhibition at 18 (38 paintings and drawings), Fontainebleau, France
1982 Moved to Normandy (West coast), France
Since 1977 300 solo exhibitions in 17 countries
Since 1986 Registered as full time Professional Fine Art Artist
Since 1986 Author of hundred articles and conferences on painting and on opera, particularly on the technique of Ancient Masters and on Anatomy. Regular contributor to art magazines Techniques des Arts and Artistes et Techniques (1986-1990) and author of several collective books about the technique of painting
1986-1996 Set design and costumes design for European Opera Houses including the complete Ring and Parsifal by Richard Wagner. 29 productions
1989-2000 Opened and managed his own gallery-studio in Honfleur, Normandy, France
1993 Corrida (The Matador) released. Pascal's signature painting (published in 96 papers in 20 countries)
1996-2002 Exhibited in French Museums: Ex Voto (Capucins Museum, Coulommiers), Grids and Lights (Capucins Museum, Coulommiers and Marquelet Museum, Meaux), Homage to Böcklin's Isle of the Dead (Bossuet Museum, Meaux)
1998 First American solo exhibition in Los Angeles
Since 1999 Pictures under license with the wear company Uzzi (USA), 100000s items worldwide
2003 Moved to Fort Lauderdale, Florida, USA
2012-2013 First exhibition in an American Museum: Sharks, Museum of Arts, Fort Lauderdale
Pascal received the Diploma of Ministry of Ecology, Environmental Protection and Nuclear Safety of Ukraine for his personal contribution on the cause of rising of interest of people to underwater world and its protection, environmental protection and nuclear safety (June 2003)
Pascal Foundation for the Arts and Environmental Education which goal should be to help and promote children to express themselves by painting and being concerned by the environment is under construction
Pascal is a member of:
– OCEAN ARTIST SOCIETY (Usa, 2003)
– SOCIETY OF ART OF IMAGINATION (AOI, Uk, 2001)
– SOCIETE DES ARTS DE L'IMAGINAIRE ET DU REVE (SAFIR, France, 2000)
– HDS (Historical Diving Society, 2002)
– FONDATION DU FESTIVAL DE L'IMAGE SOUS-MARINE (France, 2002)
– FONDATION TAYLOR (France, 1977)
Pascal supports:
– Maria Fareri Children's Hospital – Coral Restoration Foundation – DAN – Diveheart – Kayak Against Cancer – Lighthouse International – Ocean Watch – Ol Lentille Foundation (Kenya) – Our Underwater World Scholarship Rolex Foundation – Reef Environmental Education Foundation – Sharks Angels – Shark Research Institute – SPES (Togo).