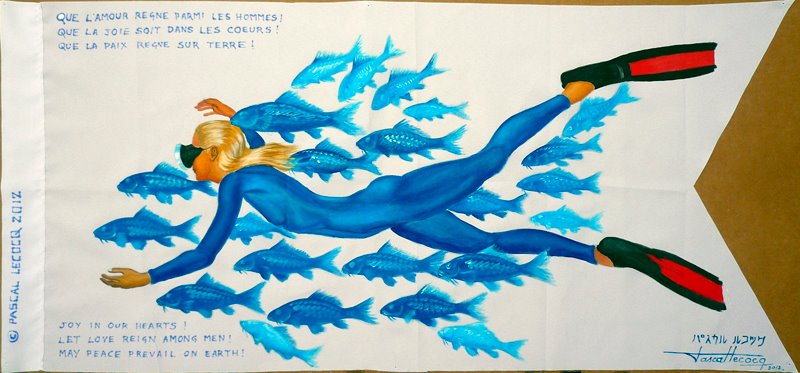 FUKUSHIMA
16 Aza Kankanezawa, O-Aza Kita-Sugama, Tamakawa-Mura, Ishikawa-Gun, Fukushima-Ken
You may have heard that over 150'000 people live in shelters after the catastrophic earthquake and tsunami on 11 March 2011. Many children have lost their parents and their smiles. There still are frequent aftershocks.
The University of Fukushima and the Chamber of Commerce and Industry of Fukushima City have started collecting our "KOINOBORIs" which contain our wishes.
French organization Ganbalo is part of the project and will be part of the exhibition at the Fukushima Airport.
The entire city will be decorated with KOINOBORIs on this year's Children's Day on May 5th. The collection will also be shown in the "Fukushima Modern Art Biennale 2012″.
Pascal has contributed to the project by creating and donating his own Koinobori for his Japanese friends.
See Pascal's exhibition in Nagoya in 2002.
About the Koinobori project and the non-profit organisation Ganbalo: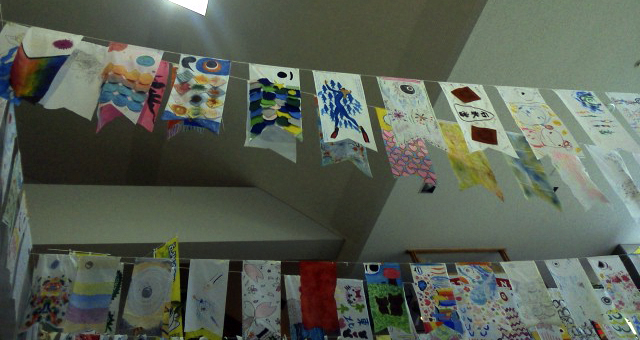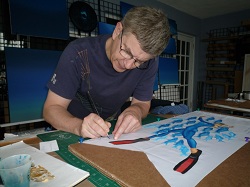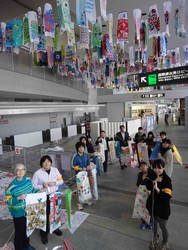 | | |
| --- | --- |
| During the World Festival of Underwater pictures 2002 in Nagoya (Japan) with the Underwater World Festival of Antibes, Pascal signs his work at the Port Hall 10am-7pm. | |
Exhibition of prints, T-shirts, towels, postcards, book and a live show (slides show with the performance of musician Bernard Abeille) Committee of Organisation of the Festival 2-13-3, Motoshio-cho, Minami-ku, NAGOYA, 457-0823 JAPAN TEL (052) 619-4578. FAX (052) 613-3775 http://www.suichu-eizo.com/
Exhibition in NAGOYA (Japan), May 17-19, 2002, with the Underwater Festival of Antibes.
WORLD FESTIVAL OF UNDERWATER PICTURES
2002 NAGOYA JAPAN
PORT OF NAGOYA and AQUARIUM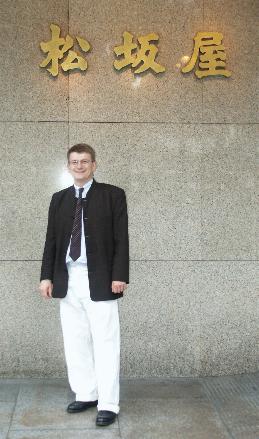 Personal exhibition in Gallery Matsuzakaya
10am to 7.30pm
Limited edition prints are available all the summer.
Original paintings and limited edition prints are shown from May 15th to May 28th. Limited eddition prints are available all the summer. MATSUZAKAYA DEPARTMENT STORE – SOUTH BUILDING – 6th floor 16-1, 3-CHOME, SAKAE, NAKA-KU, NAGOYA-CITY, JAPON TEL. 052-264-3381
Pic ©Philippe Mercier