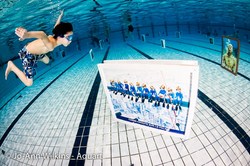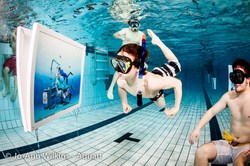 AQUART à la "NUIT BLANCHE" de "MONTRÉAL EN LUMIÈRES"
I had a gallery of 30 paintings immersed for my new exhition with the dive Festival AQUART in Canada !!!.
Montreal High Lights Festival- Montreal at Night at the Olympic Stadium.
Over 150 works of art were presented in the Olympic pool and more than 1,300 people attended the exhibition held throughout the night. To see pictures of this event, take a look at our photo gallery. (coming soon)
See my exhibitions with Aquart in 2011 at the Swimming pool of the Olympic park, Montreal.