8e édition d'Aquart, à Thetford-Mines dans la carrière de Flinkote du 8 au 10 août 2014:  AQUART Festival, Thetford-Mines, Canada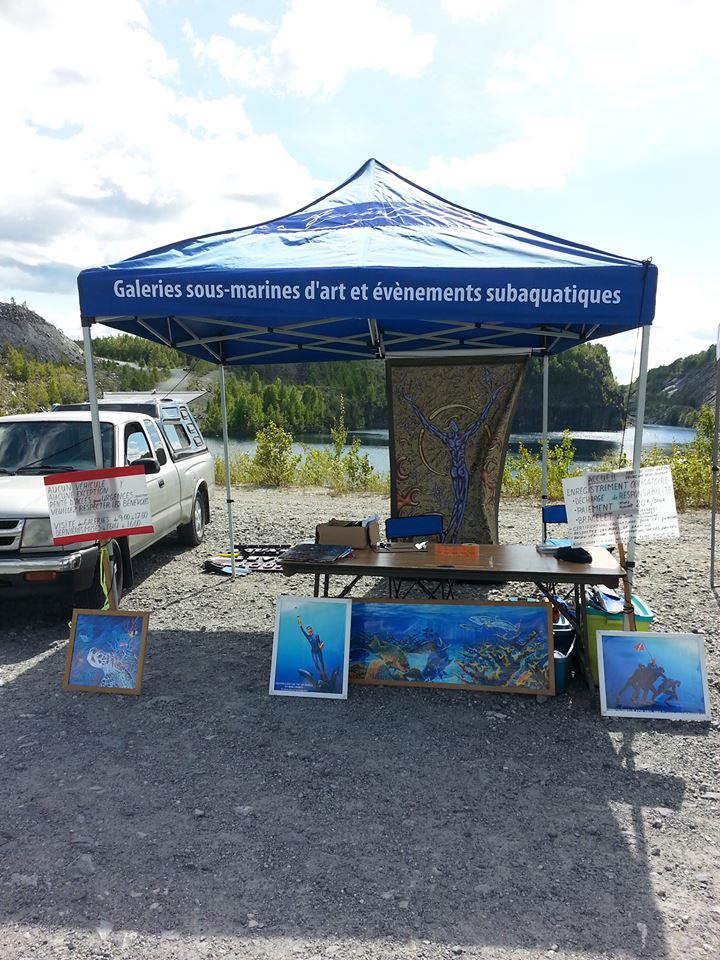 Aquart 2014
, Québec
I will have a gallery of more than 50 paintings immersed for Aquart, the famous dive Festival in Canada !!!.A total of 250 artpieces will be shown in the "Flintkote quarry", Thetford-Mines, Québec. August 8-10, 2014. Our main event, 8th edition. Pics coming soon.
Previous Pascal's exhibition with AQUART
Watch the movie by Nathalie Lasselin (Pixnat) about my exhibition in 2010 and the making of The Matador. On YouTube
More infos and Press release:
AQUART, Our Philosophy
AQUART CONCEPT
www.aquart.ca
aquart2009@yahoo.ca
louisbd@aquart.ca
1-819-346-6246
Source : Louis Boisclair Daignault
VISITEURS:
AQUART, 8ième édition à Thetford-Mines, est heureux de vous présenter les nouvelles galeries sous-marines de 2012, avec la participation de David Martel, Jean-Louis Courteau, Pascal Lecocq, Dominique Serafini, Nathalie Lasselin, Jeffrey Gallant, Jo-Ann Wilkins, Dominique Danvoye, Priscillia McNally, Mélanie Gingras, et plusieurs autres artistes.
Le site de Flintkote sera ouvert au public du vendredi 8 au dimanche 10 août inclus, de 9:00 à 17:00. Une plongée de nuit sera autorisée, sans supervision, le samedi soir, pour les personnes qualifiées.
Aucune réservation n'est nécessaire. L'entrée est au coût de 20 $ par personne qui se met à l'eau pour visiter les 250 oeuvres. 130 oeuvres à la pente école entre 5 et 60 pieds, et 120 oeuvres à la falaise le long des parois rocheuses proches de la surface.