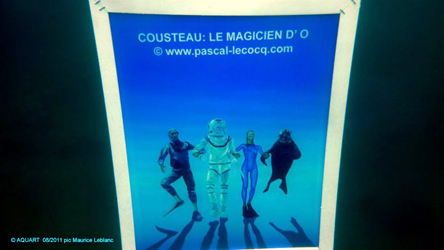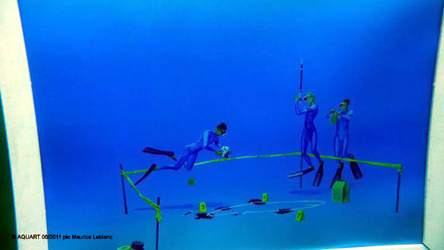 Aquart 2011, Québec
I had a gallery of 60 paintings immersed for a dive Festival in Canada !!!.
A total of 250 artpieces were shown in lakes and the Saint Lawrence River within 3 exhibitions for the 2011 festival.
After the 3 exhibitions in 2010 (Thetford-Mines, Gatineau, Brockville) , after the 2 this year in Montreal and Brockville, ON, 60 of my paintings will be immersed at the Aquart main event at the Flintkote Quarry in Thetford-Mines, Qc, August 12-14, exactly at the school ramp (20-50 feet).
More than 250 artworks exhibited by Jean-Louis Courteau ( a great, great white shark !), Jo-Ann Wilkins (photos), Jason deCaires Taylor (scupt…ures from the MUSA of Cancun), the Cousteau team adventures in comics, and many others…
You'll be able to dive also in the permanent collection of the Underwater Museum where my Matador on the Sphere (2010), still there, will be moved from the bottom to a more accessible location near the galleries during the Festival.
Watch the making of and the 2010 exhibition filmed by Nathalie Lasselin (Pixnat)
http://www.pascal-lecocq.com/news.2011.php?id=144
and in pictures on Facebook
Direction at www. aquart.ca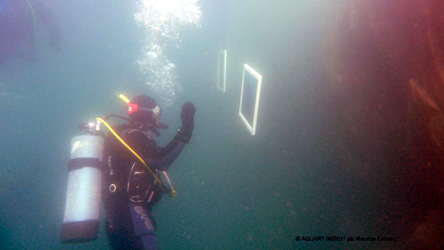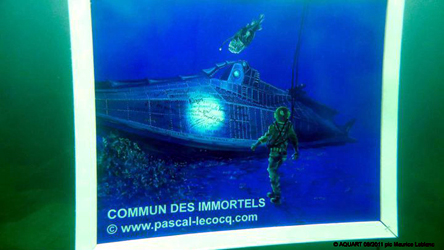 Après mes 3 expos en 2010 (Thetford-Mines,Gatineau,Brockville) , après les 2 de cette année à Montreal et Brockville, ON, 60 de mes images de peintures seront immergées lors du principal évènement du Festival à la carrière Flintkote de Thetford-Mines, Qc, du 12 au 14 août, exactement sur la pente de l'école (20-50 feet).
Plus de 250 oeuvres deJean-Louis Courteau ( un très très grand Blanc !), de Jo-AnnWilkins (photos), de Jason deCaires Taylor (scuptures du Muséesous-marin de Cancun), des aventures de Cousteau en bande dessinée, etc… seront présentes.
Vous pourrez aussi plonger au milieu des oeuvres du Musée sous-marin permanent dont ma Corrida sur sphère (2010), toujours là. Elle sera déplacée vers les galeries pour plus d'accessibilité.
Regardez le making of et l'expo 2010 filmés par Nathalie Lasselin (Pixnat)
http://www.pascal-lecocq.com/news.2011.php?id=144
ainsi que mes images sur Facebook
Direction sur www. aquart.ca
More infos and Press release:
AQUART, Our Philosophy
Communiqué de presse 2010 (in French)
Le concept original du Festival AQUART est de "promouvoir et allier les Arts, les activités subaquatiques et l'environnement, tous réunis dans le même bassin, avec l'eau comme support de la vie et écrin de ces trois entités." (Fabrice Vanhoutte, Président de AQUART).
Watch the movie by Nathalie Lasselin (Pixnat) about my exhibition in 2010 and the making of The Matador. On YouTube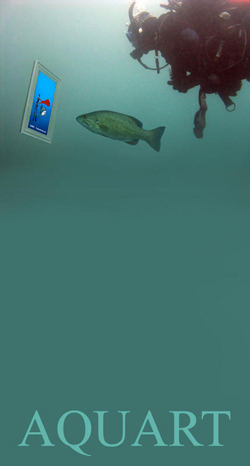 AQUART, montage by Jean-Louis Courteau/P.Lecocq