Aug 12-14: AQUART Festival, Thetford-Mines, Québec.
Pics by freediver © Christiane Hébert, AQUART 2012.
Aquart 2012, Québec
I will have a gallery of more than 50 paintings immersed for Aquart, te famous dive Festival in Canada !!!.A total of 250 artpieces will be shown in the "Flintkote quarry", Thetford-Mines, Québec. August 12-13-14, 2012. Our main event, 6th edition.
More infos and Press release:
AQUART, Our Philosophy
Communiqué de presse 2010 (in French)Le concept original du Festival AQUART est de "promouvoir et allier les Arts, les activités subaquatiques et l'environnement, tous réunis dans le même bassin, avec l'eau comme support de la vie et écrin de ces trois entités." (Fabrice Vanhoutte, Président de AQUART).
Watch the movie by Nathalie Lasselin (Pixnat) about my exhibition in 2010 and the making of The Matador. On YouTube
Previous Pascal's exhibition: 2010, 2011, 2012 in Montreal
VISITEURS:
AQUART, 6ième édition à Thetford-Mines, est heureux de vous présenter les nouvelles galeries sous-marines de 2012, avec la participation de David Martel, Jean-Louis Courteau, Pascal Lecocq, Dominique Serafini, Nathalie Lasselin, Jeffrey Gallant, Jo-Ann Wilkins, Dominique Danvoye, Priscillia McNally, Mélanie Gingras, et plusieurs autres artistes.
Le site de Flintkote sera ouvert au public du vendredi 10 au dimanche 12 août inclus, de 9:00 à 17:00. Une plongée de nuit sera autorisée, sans supervision, le samedi soir, pour les personnes qualifiées.
Aucune réservation n'est nécessaire. L'entrée est au coût de 20 $ par personne qui se met à l'eau pour visiter les 250 oeuvres. 130 oeuvres à la pente école entre 5 et 60 pieds, et 120 oeuvres à la falaise le long des parois rocheuses proches de la surface.
Invitez vos amis plongeurs et apnéistes, même débutant.
C'est gratuit pour les accompagnateurs qui ne se mettent pas à l'eau. Le camping est gratuit pour tous à partir du jeudi soir et il ya de la place pour les VR.Camping sauvage, avec toilettes sèches.
Il y aura location d'équipement d'apnée pour tous, et de plongée sous-marines pour les personnes qualifiées, ainsi que remplissage de bonbonnes d'air.Plusieurs compagnies offriront sur place des essais plongée de leurs produits, tels que des appareils photos sous-marins, des scooters sous-marins, des palmes, des dry suits….Le site de Flintkote est exclusivement réservé à AQUART à partir du mardi 7 août et seuls les bénévoles plongeurs et terrestres qui aident à la mise en place sont autorisés sur les lieux le mardi 7 et le mercredi 8 pour la mise en place des galeries, et le lundi 13 pour le remisage. Le jeudi 9, il n'y a aucune plongée autorisée, afin de laisser reposer les eaux pour une belle visibilité le lendemain: Seuls des médias et des équipes de filmage auront accès cette journée là.
Si des plongeurs se présentent les 7, 8 ou 13 de août, ils pourront soit avoir accès gratuitement en devenant des bénévoles pour la mise en place ou le remisage des galeries, soit payer 20$ pour avoir accès, qu'ils plongent ou pas sur les galeries.
Bon AQUART 2012!BÉNÉVOLES:
Pour les bénévoles,terrestres et plongeurs, aucune réservation nécessaire. Juste venir à la carrière de Flintkote et se présenter à Fabrice (cherchez le Jeep plein de collants de plongée!) à partir de 9:00. On a besoin de plongeurs pour la mise en place et le remisage les 7, 8 et 13 août, mais aussi d'aide au terrestre pour assembler les oeuvres et les systèmes d'accrochage que les plongeurs vont ensuite placer sur les galeries sous-marines.
Durant l'évènement, on a besoin de plongeurs sauveteurs et divemasters ou instructeurs pour la surveillance des mises à l'eau et le sauvetage, et de bénévoles terrestres pour l'accueil, le contrôle des parkings et des pentes d'accès. Merci de votre implication! Meetings à l'accueil à 8:00 tous les matins pour répartir les tâches de l'équipe.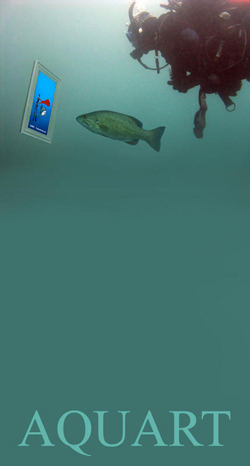 AQUART, montage by Jean-Louis Courteau/P.Lecocq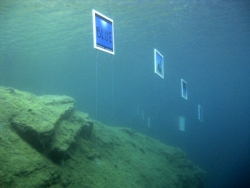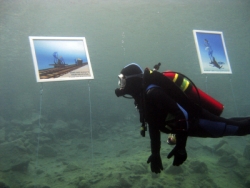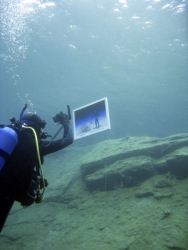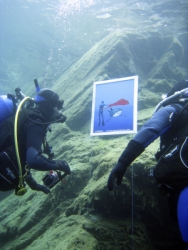 Aquart 2010, pic by Jean-Louis CourteauAquart 2010, pic by Martin Fortier