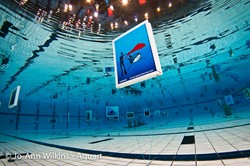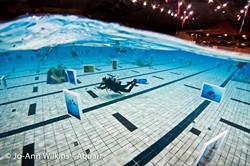 MONTREAL, Hight Light Festival – Nuit Blanche à Montréal – Aquart Galerie au fond de l'eau
40 of my paintings are exhibited with other great artworks during the Aquart exhibition at the Olympic Swimming Pool in Montreal.
AQUART à la "NUIT BLANCHE" de "MONTRÉAL EN LUMIÈRES".
une galerie d'art avec masque et tuba tout en vous baignant ! Cette activité inusitée s'offre à vous pour une nuit seulement à Montréal. Sous une musique d'ambiance, admirez les œuvres de plus d'une vingtaine d'artistes, dont Pascal Lecocq, David Martel, Jean-Louis Courteau et Dominique Danvoye. Sur place, location d'équipement d'apnée.
Piscine du centre Sportif du Parc Olympique   Saturday, February 26 · 5:30pm – 8:00pm
Pics © Jo-Ann Wilkins – AQUART  Jo-Ann full album Website  Aquart Website