2018 ARTDEX Inaugural Art Competition awarded Pascal's painting : "C'EST PAS LE MOMENT DE SORTIR – IT'S NOT THE TIME TO GO OUT, HOMAGE TO ED. HOPPER'S NIGHTHAWKS" oil on canvas, winning award "Promotion artist" selected from hundreds of submissions received from participants this year.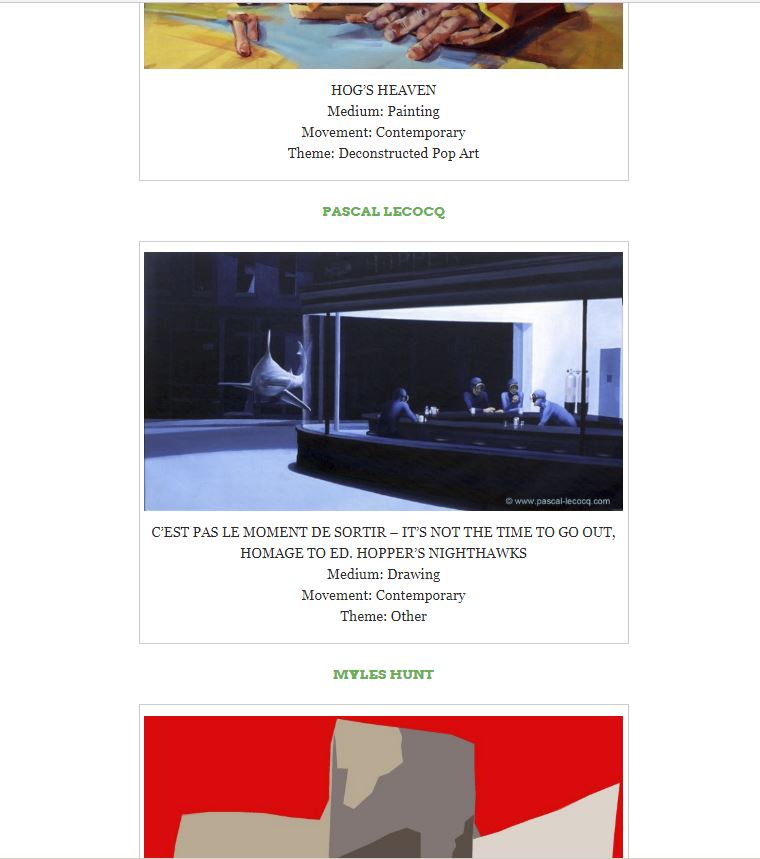 Winner annoucement at http://www.blog.artdex.com/discover/special-edition-2018-artdex-art-competition-winner-announcement/
With the Inaugural Art Competition, we hope to empower a community of emerging artists with an exciting opportunity to showcase their work and compete for cash prizes.
This year, our esteemed jurors team includes:
Evan Douglis, Dean
School of Architecture, Rensselaer Polytechnic Institute, NY
Todd Henry Bartel, Visual Arts Teacher, Artist
Thompson Gallery Director, The Cambridge School of Weston, MA
Bradley Horn, Associate Professor
Director of Graduate Architecture Program, School of Architecture, The City College of NY
Michael Oatman, Associate Professor, Artist
School of Architecture, Rensselaer Polytechnic Institute, NY
Richard Sarrach, Associate Professor
Associate Director of Interdisciplinary Technology, School of Architecture, Pratt Institute, NY
Over the past few months, ARTDEX has received numerous brilliant artwork submissions from talented worldwide artists attending our Inaugural Art Competition. We would like to thank you for your continuing contribution and daily endeavor to inspire the global art community.
We are honored to announce the six artists selected from our esteemed jurors.
In addition, two of the four promotion artists were also chosen in the final jurors' selection.
We are thrilled for all the winners and their outstanding artworks!