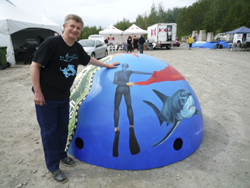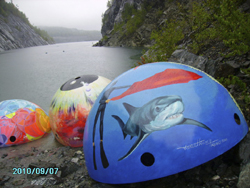 Aquart 2010Flintkotte Quarry, Thetford Mines, Québec
During the 1st exhibition of AQUART 2010, in the workshop of the Aquartistes, five huge half-spheres of 4 feet by 8, were painted by the artists under the eyes and sometimes with the collective complicity of the public. Pascal Lecocq realized a new version of his "Matador". The half-spheres are immersed in the Flintkote Quarry , added to the permanent works which AQUART leaves at the bottom of water every year since 2008.

Pics and video of the making of the spheres in Flintkote, Thetford Mines, Quebec, Aug 6-7-8 and of the installation underwater coming soon.