3rd Issue of the eMagazine of the Ocean Artists Society, published by his Executive Director Charlie Fassano.
As he put it: "The topic of Ocean Awareness is the best subject to end the 10th anniversary year of the Ocean Artists Society. This topic is our ultimate goal, to deliver a message of ocean awareness through our artwork. In this anniversary year, we have grown exponentially in how we deliver our messages. In showcasing our artwork, we have brought a better awareness to sharks, water, and coral reef conservation.
In this issue, we hope to show you what we believe you should know about Ocean Awareness. It is our individualistic "take home" message for you."
As a member since the creation of the Society in 2003, it's an honor to be featured here and associated with my friends Dr. Sylvia Earle, Valery taylor, Ernie Brooks, Amanda Cotton, Imran Ahmad, Michael Aw, Joe Quinn, Bill McDonald and other talented artists.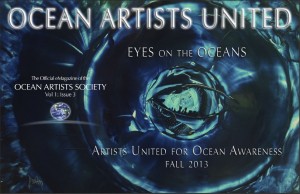 view/download the free eMagazine:
OCEAN ARTISTS UNITED: EYES on the OCEANS
https://db.tt/Yv1CQO7H
view the film:
http://youtu.be/wOb-A1ValMU
download the film:
https://db.tt/YYnSD6Hd