Curator's Voice Art Projects and Dr. Milagros Bello  Digressions & Detours during the Art Basel Season. The show takes place at the gallery from November 23, 2013 – January 25, 2014.
Featuring for the first time Pascal's oil paintings at #artbasel #artbaselmiami
Curator's Voice Art Projects,  (CVAP) is located at the center of the Wynwood Art District in Miami, Florida, USA, where all the leading contemporary art galleries present the most avant-garde shows in South Florida. CURATOR'S VOICE ART PROJECTS focuses on curatorial projects in Cutting Edge and Contemporary Art.  CVAP is lead by Miami-based curator Dr. Milagros Bello, director and chief curator of this space. Dr. Bello obtained a Doctorate in Sociology of Art, and a French Master degree in Art History, both at Sorbonne University. She teaches art at South Florida Universities. She writes about art on different media. She has worked as an independent curator in the arts for over 20 years.
CVAP is committed to fostering the contemporary arts and in presenting curatorial exhibitions focused on new art practices.
CALENDAR OF EVENTS:
-OPENING COCKTAIL/GUIDED TOUR: Saturday, November 23, 2013/6-10pm with Pascal
-ART BASEL WEEK CELEBRATION/GALLERY SPECIAL HOURS: Monday, Dec. 2 through Friday Dec.6, 2013/12noon-10pm
– ART BASEL SPECIAL CELEBRATION IN WYNWOOD/PERFORMANCE AND VIDEO: Saturday, December 7/ 12noon-11pm with Pascal
-WYNWOOD DECEMBER ART PREVIEW: Thursday, Dec. 12/ 6-9pm with Pascal
-DECEMBER GALLERY NIGHT/CONVERSATION WITH THE ARTISTS: Saturday, Dec. 14/6-10pm with Pascal
-LECTURE/ INDIAN CONTEMPORARY ART: Saturday, Dec. 21, 2013/7pm-9pm
– WYNWOOD JANUARY ART PREVIEW: Thursday, January 9, 2014/ 6-9pm
-JANUARY GALLERY NIGHT/CONVERSATION WITH THE ARTISTS: January, 11, 2014/ 6-10pm
– LECTURE/CHINESE CONTEMPORARY ART by Dr. Milagros Bello: Saturday January 18, 2014/7-10pm
-CLOSING OF THE SHOW: Saturday Jan. 25, 2014/7-10pm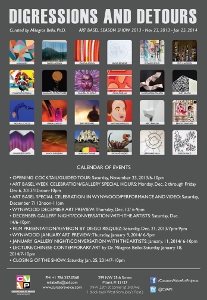 PRESS RELEASE  pascal_lecocq_CVAP2013PR_ (English)
DIGRESSIONS AND DETOURS
6 paintings by Pascal: CALLIGRAMME DE GRENOUILLE / Calligram of Frog
10×10 oil on canvas gallery wrap signed on the lower right edge
Part of a serie of 38 paintings (and counting) started in 2005 with a reference to French
Poet Guillaume Apollinaire (1880-1918), author of Calligrammes,
A calligram is a poem, phrase, or word in which the typeface , calligraphy or handwriting is
arranged in a way that creates a visual image. The image created by the words expresses
visually what the word, or words, say. In a poem, it manifests visually the theme presented
by the text of the poem. Guillaume Apollinaire was a famous calligram writer and author of
a book of poems called Calligrammes His poem written in the form of the Eiffel Tower is an
example of a calligram.
To the very meaning of "play on words" defining the Calligram, as a Digression, I wanted
to "play on pics" to write an unreadable poem, playing with the shape (of the body) of my
signature character – a little diver-, an Exercises in Style, close to Raymond Queneau 's
writtings, closing the Detour from Literature to Painting and Painting to Literature.
An interactive picture, combining several canvasses, let the collector to create his own
artwork where he can dive in.
Pascal Lecocq