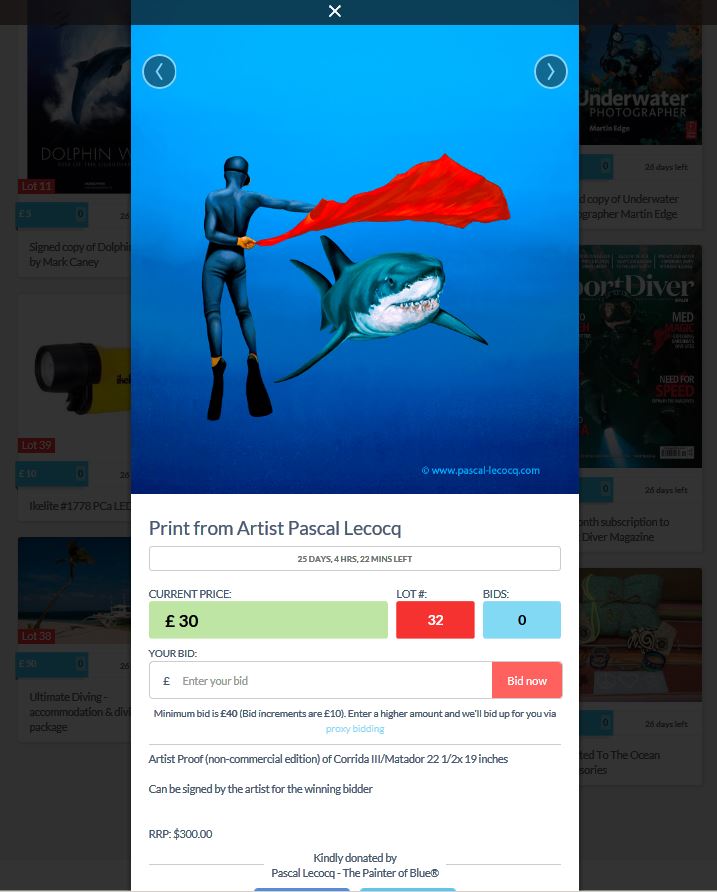 2016 Silent Auction in Aid of Project AWARE Read more … with an artist proof of the Matador (non-commercial edition) donated by Pascal
Welcome to the Project AWARE 2016 Silent Auction  in support of ocean protection!
Bidding on this silent online auction will open on Tuesday 27th September and close on Saturday 22nd October.
Project AWARE is a global movement of scuba divers protecting our ocean planet – one dive at a time. Focused on the critical issues of Sharks in Peril and Marine Debris, Project AWARE empowers thousands of divers in more than 180 countries to work together for a clean, healthy and abundant ocean planet. Project AWARE Foundation is a global non-profit organisation with offices in the UK, U.S. and Australia.
Please note
: People attending the 
Sport Diver Awards 2016 Gala
 will also have an opportunity to bid online during the Sport Diver Awards Ceremony, on Saturday 22nd October – 
Book your ticket now
 to attend the event:
www.sportdiver.co.uk/tickets
 (10% of the ticket sales supports Project AWARE).
To bid, just click on one of the pictures. You will be asked to register if you wish to bid, and you will need to sign in each time to place a bid.
Spread the word about the Project AWARE 2016 Silent Auction on social media:  @projectaware #SilentAuction
Happy Bidding!
Funds raised through this Silent  Auction will help Project AWARE tackle some of the ocean's toughest challenges in our favorite dive sites, in our communities, and at the highest levels of government by:
Securing new protections for over-exploited shark and ray species.
Working with dive volunteers year-round to remove and report marine litter from underwater environments and pushing for policy changes leading to marine debris prevention at national, regional, and international levels.
Leading and inspiring the next generation of Eco-divers and using the power of scuba to influence change.
Strengthening partnerships with conservation groups, government bodies, responsible corporations, and others committed to eliminating marine debris and protecting shark and ray species at risk.
Bidding on this silent online auction will open  on Tuesday 27th September and close on Saturday 22nd October. Winners will be announced at the Sport Diver Awards 2016 Ceremony as well as  at one of the most popular international dive industry events, DEMA, 11-19 November! Winners unable to attend the Sport Diver Awards Ceremony will have their item sent by post when payment is received. Please allow a few weeks for delivery. Postage costs can be found against each item description.
Thanks for supporting ocean protection by bidding generously!