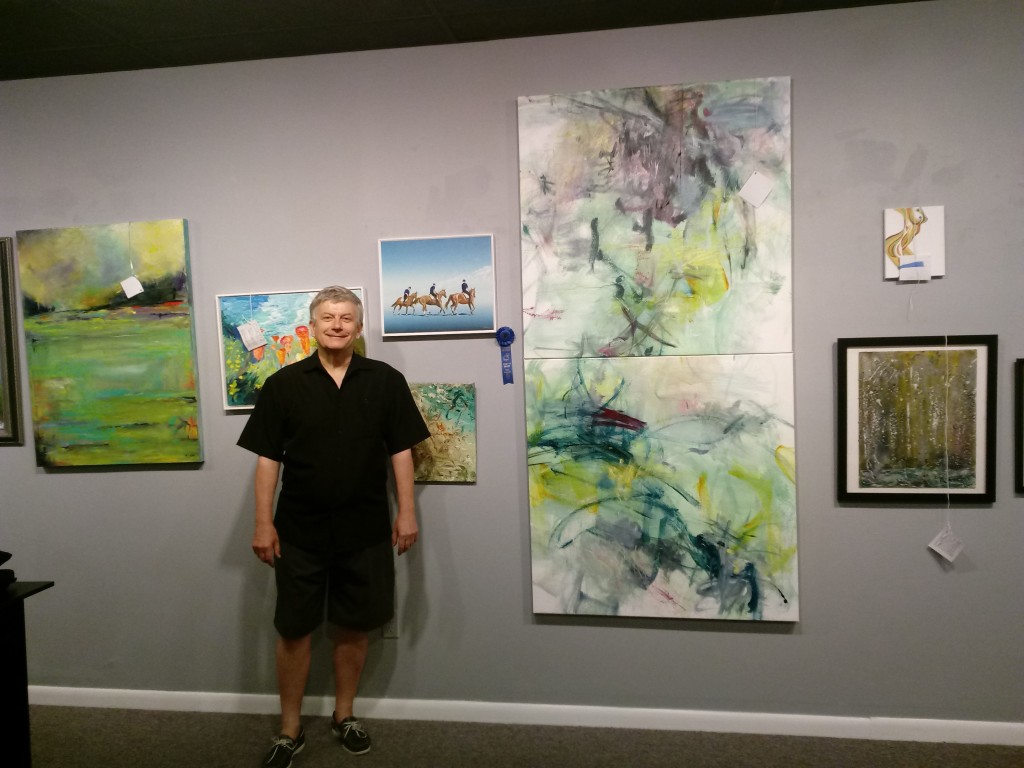 Original oil on canvas by Pascal: "CAVALCADE" awaded "BEST IN THE SHOW, see awards
"CAVALCADE, by Pascal Lecocq won first prize because he was able to capture a dream. Who wouldn't want to canter through the sky on their very own chestnut mare.. His command of the medium is flawless. The three photorealistic horses and riders are skillfully painted, down to the last detail. Even the signature is precisely perfect." Susan Pelish (Judge)
Ms. Pelish received a Bachelor of Fine Arts, Florida Atlantic University, Boca Raton, Fl., Awarded the American Association of University Women, Two Year Scholarship to Pratt Institute, Brooklyn, NY., graduated State University at New Paltz, New York. She has been a dedicated fine and commercial artist in the South Florida area since 1980. She is a master of Welded Glass Sculpture, and a photorealist in oil. Susan's glass and cement sculptures, and oil paintings have won many awards, and been featured in important museum shows. Currently her focus is Illuminated Abstract Expressionism. This year she was chosen to be Docent Chairperson at the Boca Raton Museum of Art.
BROWARD ART GUILD: "WINTER SPECTACULAR SALON" EXHIBIT (until Jan 19th)
Group exhibition by the Broward Art Guild
Art Exhibition and Sale
Original oil on canvas by Pascal: CAVALCADE, oil on canvas 38 x 46 15'x18'1/8
Gallery Hours: Wednesday, Friday, Saturday: Noon to 9 pm Thursday Noon-6pm.Sunday-Tuesday: Closed.
Public Reception: Saturday, January 6th, 2018 from 6:30-9:00pm
Exhibition Run Dates: December 20th, 2017 to January 19th, 2018
Broward Art Guild Gallery
3280 NE 32nd Street
(North Beach Restaurants & Shoppes Plaza)
Fort Lauderdale, FL 33308
954-537-3370